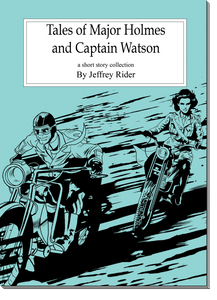 "Tales of Major Holmes & Captain Watson" Paperback
Regular price $20.00 Sale
London, 1913 - It's been years since the city's streets were stalked by its most famous mind. But now a new generation is being brought together by a shadowy guiding hand from the past, and a brilliant new Holmes and altogether different "Watson" are about to come together and change everything!
​This collection features short stories featuring the original characters from the smash-hit comic book series Major Holmes & Captain Watson. Meet Major Sheffield Holmes, nephew to the Great Detective himself, the mysterious American spy known as Imogen "Watson", gruff but loveable Scotland Yard detective Agamemnon J. Brick, the famous Mycroft Holmes, and a bevy of characters from the comic series, the original Doyle canon, and colorful historical characters from London's seedy underworld. Written by Jeff Rider, copyright 2023.
Includes the short stories "The Adventure of the Errant Slipper",  "The Case of the Emerald and the Elephants",  "That Adventure of the Squared Circle", and "The Problems of the Phoenix and the Plums." Paperback copy, 156 pages.